The Mad Russian Swings The Axe Once More
Posted:
November 21st, 2012, 10:45 pm
So you win the Champions League for the first time ever & win the FA Cup and within 6 months your fired after leading the Premier League for 3 months & playing some superb football!
Poor old Roberti Di Matteo
Much like Carlo Ancelotti who won the Premier League & FA Cup double in 2009/10 for the first time ever and was then sacked at the end of the next season!
I would say its utter madness but good old Roman's Chelsea has had 10 managers since buying the club in June 2003 :
Claudio Ranieri (Won 54% of his games)
José Mourinho (Won 67% of his games) *6 trophies
Avram Grant (Won 67% of his games)
Luiz Felipe Scolari (Won 56% of his games)
Ray Wilkins (Won 100% of his games)
Guus Hiddink (Won 73% of his games) *1 trophy
Carlo Ancelotti (Won 61% of his games) *3 trophies
Andre Villas-Boas (Won 48% of his games)
Roberto Di Matteo (Won 62% of his games) *2 trophies
Rafael Benítez
To put it in some kind of win ratio context Arsen Wenger has won 57% (this changes every game) of his games which is only better than 3 of the 9 Chelsea managers but he has won 11 trophies which is 1 less than all 9 of the Chelsea managers combined!
Its all about perspective though, chav cunts
A few of my fav chavski moments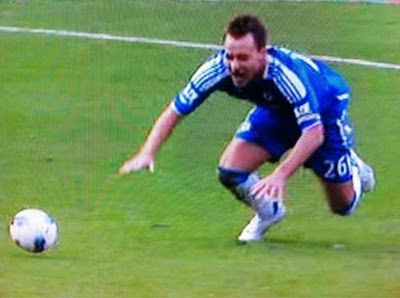 It's only Ray Parlour