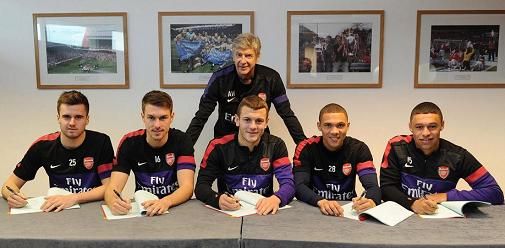 Today its being reported that five of our best British boys have signed new long term deals.
Jack Wilshere, 21 (£80,000)
Alex Oxlade-Chamberlain, 19
Kieran Gibbs, 23
Aaron Ramsey, 21
Carl Jenkinson, 20 (£32,000)
But as yet Theo Walcott (he has already turned down £75,000) has not agreed anything and seems to think he is worth more than future Arsenal & England captain Jacky W!
Theo wants £85,000 which id pay him but is he really worth £5,000 more than Wilshire?
NO
He is worth £5,000 less at the very most.