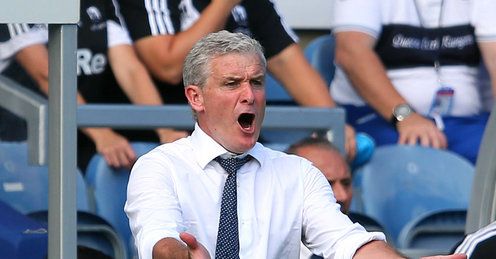 WOW!
Shocking surprise there
Bloke is an utter twat at the best of times
The grumpy welsh shit bag has been there since 10th January 2012, thats a few days over 10 months
He has in that 10 months bought these players :
Nedum Onuoha (£3.0m)
Djibril Cissé (£4.0m)
Bobby Zamora (£6.0m)
Ryan Nelsen (Free)
Andy Johnson (Free)
Robert Green (Free)
Samba Diakité (£3.5m)
Park Ji-Sung (£2.0m)
Junior Hoilett (Free)
José Bosingwa (Free)
Júlio César (?, think it was free)
Esteban Granero (£6.5m)
Sam Magri (Free)
Stéphane Mbia (£5.0m)
Thats almost £30.0m! and for that money he has managed 6 Premier League wins, that makes £5.0m per win!
Now at that price per win and going by the average of the last 3 seasons Premiership winning points averages of 88 (Man City 89, Man Utd 90, Chelsea 86) then QPR with Mark Hughes would need to spend about £150m to win the title.
Most people liked QPR but the way the new owner has come in and tried to win stuff by just buying everyone they could and the way they shat on Neil Warnock just made the entire club look like amateurs and i hope they go down, i feel sorry for the fans but potential club owners must realise you just can not take any club from the Championship and chuck loads of money at them to be successful, you need a half decent base to start with and not a stadium with an 18,500 capacity
So bringing in Sir Harry of Redknapp will do the job, everyone loves old 'Arry and he is as i type getting a bag of food n drinks ready for them long car park interviews over the weekend
A very annoyed bloke